We are happy to take part in

Hacktoberfest 2023
How to contribute
Contributions
to open issues

We have a curated list of Hacktoberfest issues that are ready for you to pick up.

Build a demo app

Build a demo app of your choice using Novu to deliver notifications

Write a blog post

Made a PR? Have used Novu in a recent project? Tell the world about it in form of an blog post, article or guide

Make a tutorial

Create a video tutorial or a written one, help new users and maintainers get started with Novu!
Don't know where to start?
Check our good first issues that help you onboard to Novu project and get first achievement.
Win a swag pack for just 3 merged PRs!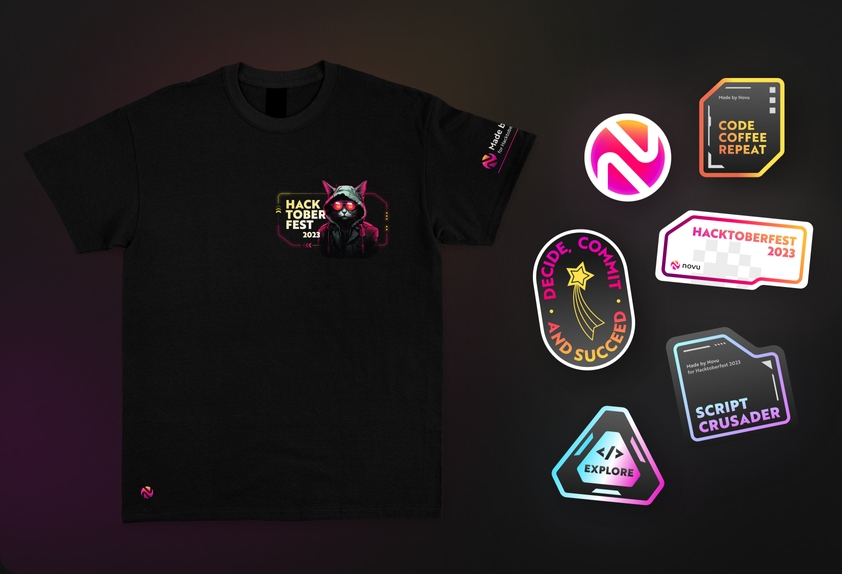 Very special Novu T-shirts + Stickers pack
Leaderboard
Track the top contributors by their number of pull requests. Join the competition and see who's making a difference!
Global events
Hacktoberfest events are happening all month long so you can join your friends day or night, from dusk to dawn, as you work to complete your pull/merge requests.
Date
Time (In WAT)
Time in UTC
Event
Oct 2
03:00 PM
02:00 PM UTC
Hacktoberfest kick-off with Novu team
RSVP
Community Heroes
Novu is more than just a notification system. It's a community. We want to let other people achieve a better status in our community by offering incentives unrelated to money.
How it works
Frequently Asked Questions
Looking for answers? Here are some common questions we've been asked.
Hacktoberfest is an annual month-long event that encourages open-source contributions. Participants make valid pull requests on GitHub to earn rewards and celebrate open-source software.

To participate, register on the Hacktoberfest website, then contribute to open-source projects on GitHub by creating at least four valid pull requests during October.

Valid contributions include bug fixes, new features, documentation improvements, and more. You can take a look at dedicated issues for Hacktoberfest from our team.

Yes, and even recommended! Each contribution will be counted for both Hacktoberfest and HackSquad

We assume that it will reach everybody within 60-180 days after the event ends.

No! We are taking care of it!

The Normal Swag kit consists of T-shirt, Socks, Mousepad, Tote Bag, and Stickers.

The Premium Swag kit consists of Criss Cross Laptop Bag, Adidas Duffle Bag, T-Shirt, Hot & Cold Sports Bottle, Folio Laptop Sleeve, Socks, and Stickers.

The leaderboard gets updated every 2 hours.

The first 30 contributors to get 5 merged PRs throughout the period of Hacktoberfest get the premium swag kit. The first 90 contributors to get 3 merged PRs throughout the period of Hacktoberfest get the normal swag kits

No, anyone can participate! You can help with documentation, translations, artwork, and other non-coding contributions. You can even create issues that you think people should work on.

Participants who complete the Hacktoberfest challenge can earn an exclusive digital reward kit. The reward kit will include a customizable badge that evolves with each pull/merge request accepted by maintainers, representing the participant's journey in open-source and Hacktoberfest. Additionally, winners will receive unique badges featuring a delightful surprise and gifts from sponsors

Contributions to any public GitHub repository can be eligible for Hacktoberfest, but maintainers can label issues as 'hacktoberfest-accepted' to indicate that they welcome contributions.

You can track your progress by signing in to your Hacktoberfest profile on the official website. It will show your completed pull requests.

You need a GitHub account to participate, but signing up is free and easy. Visit GitHub to create an account.

Yes, Hacktoberfest is a global event. Anyone, regardless of their location, can join and participate.